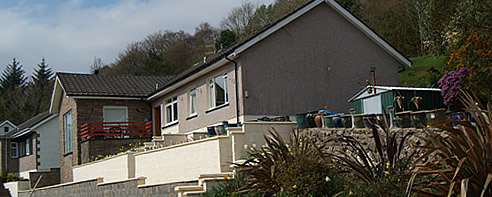 The Cuillins | 01880 820189
The Cuillins Bed & Breakfast
Modern bed & breakfast accommodation highly recommended less than 500 yards from Tarbert's harbour. The Cuillins features 3 luxurious rooms, 2 double rooms and 1 twin room, all of which are en-suite and all of which have tea and coffee making facilities. Each room also has a hairdryer and toiletries in every room and the Cuillins is non-smoking throughout.
The Cuillins has a wonderful breakfast and lounge room, with comfortable luxurious seating and satellite television.
The Cuillins has 2 double and 1 twin room available, families and children are welcome.
In the price you also get a large full scottish breakfast and we also cater for vegetarians. You can be assured of a friendly welcome and a comfortable stay at the Cuillins.
Why not stay and make use of our wonderful bathroom and relax with a luxury bath with our range of complimentary Arran Aromatics supplied by Artlines, Argyll Street, Lochgilphead.
We are able to accommodate dogs by appointment only.
Prices
For the large double room with en-suite bath and shower - £32.50 per person, per night. For the remaining double and twin rooms from - £30 per person, per night. Single occupancy £45.
Breakfast and Food
Full Scottish Breakfast available or why not try our Gourmet fishcakes for breakfast - smoked haddock, spinach and parmesan or salmon and red pepper!
Packed Lunches available by arrangement.
Guests are permitted to use our barbeques (gas and charcoal) in our sizeable garden.

Contact The Cuillins
Name: Isabel Grieve
Address: Cove Road, Tarbert, Argyll.
Telephone: 01880 820189
Mobile: n/a
Fax: n/a
Email: info@thecuillins.com
Web: www.thecuillins.com
Facebook: n/a
Twitter: n/a
Trip Advisor Reviews
Click here to view reviews for The Cuillins in tripadvisor.
Feedback
There are currently no customer feedback entries for this page.
History / Visitor Information
16844 visitors to this page since April 2005